Music is a medium that has the capability to make you feel something when you're listening, but have you given any thought to who works the music magic behind the scenes?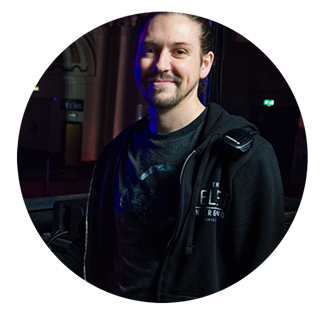 Jan Thomas Halsvik came from Norway to Brisbane JMC in 2012 to be a part of the Audio Engineering and Sound Production course as an International Student. Since moving back home in 2014 and establishing his love for live sound, he's had such success in a career-driven by helping others let music fuel their emotions. 
We caught up with Jan to talk about choosing Australia, career highlights and how JMC has helped him be the successful sound engineer he is.
What made you decide to travel to Australia and study at JMC? 
I had looked at JMC during high school, at an education fair. I had always wanted to go to Australia (saw a lot of Crocodile Dundee on TV) and live in a warmer climate for a bit. At the time I also decided to pursue a degree in audio. Teachers I had in Norway recommended venturing outside of Norway. Five years after that fair everything lined up and I was given the opportunity to jump straight into the fast track course after finishing a yearlong study in Trondheim in June. I started at JMC Brisbane in July. It was tricky at first since Norway and Australia are on such different schedules and are at opposite times of the year. 
Why audio? 
This I guess is a bit cliché. I was originally playing the guitar but might not have seen the viability of this as a career for me, but still wanted to work within the music industry. I looked to other aspects of the industry and knew how music and soundscapes in movies could invoke a strong emotional response in me. I wanted to be the reason other people experienced these amazing responses. I specifically remember a concert with an undiscovered Swedish artist called Robyn at Roskilde in 2008 which completely blew me away, and I guess that was a pivotal moment in my career choice. That experience has guided me ever since, wanting other people to hear music live and say, "holy absolute what the hell is happening!" and be amazed. 
Want to study Audio Production at JMC?
How did studying at JMC help you get where you are now?
JMC gave me the time to practice on equipment I would not have been able to get my hands on. Following that up with theory taught by experienced teachers was really beneficial, I could ask questions or raise issues at any time. I still remember all the times we sat with our teachers after class ended, continuing the discussions of certain subjects and taking it further. That was a great experience. It just gave me the opportunity to try, fail and learn the different aspects of audio. I was actually never interested in pursuing live sound, it seemed scary and too fast-paced. Having the time to learn, practice with music students live gigs and learn from fellow audio students, I slowly worked up the courage to try. I now love working with live sound, I would much rather do live than studio recordings as that kick off an amazing show is a feeling second to none. 
Tell us a bit about your career since leaving JMC. 
Since I left JMC, I stayed in Australia for a year working for a crewing company called 'Staging Connections' and for some different venues around Brisbane. I left for Norway in 2014, and after a few months got a job as an Audio Engineer for a local theatre in Bergen. I did this for about 8 months before taking a part-time job as a bartender while working my way into the freelance market and local Bergen audio/visual/staging companies. I also did a lot of free stuff with Sofar Sounds, student radio and worked with some local artists. Because of this work and the connections, I made here, I was offered the job as the all-rounder audio technician for the live aspect of the local artist Sigrid. I did pretty much everything regarding the live audio for her for a year and a half then acquired a monitor engineer to help me out as she grew as an artist. I am still with Sigrid as her FOH Engineer, and oversee her live audio production, alongside with her monitor engineer and the tour manager. 
You've worked on some of the biggest stages in the world - what has been your personal favourite moment in your career?
Ooh, that's a difficult one! There have been so many great moments, and I have experienced such amazing growth both sonically, visually and personally. The first year with Sigrid, we did SXSW and many other festivals which were amazing. Getting to tour Australia and New Zealand was also very special for me. We got the opportunity to work on TV shows like James Corden, Jimmy Fallon and The Late Show with Stephen Colbert which were special. Of the live shows, I have to say Glastonbury, Coachella and Austin City Limits were highlights, supporting bands like Maroon 5 and George Ezra, and doing our own fully sold out headline shows at Brixton Academy and the Apollo in London. Last but not least, doing a sold-out headline arena show for 12,000 Irish people in Dublin, it was crazy! Amazing crowds and good times. 
Want to get in touch with our Student Admissions Team?
What was your favourite part about studying at JMC? 
I would have to say the people, the teachers and fellow students (and admin). That combined with the available studios, equipment and the work across courses, JMC was a great fit for my learning. 
What advice would you give to someone thinking about moving to Australia to study audio? 
Do it! If you want to experience Australia and study audio at the same time, this is a great way to do it. I was the only Norwegian at JMC Brisbane at the time, which really puts you in a great place for experience, and especially improved my English skills. Another piece of advice would be to use the most of your time there, do work outside of JMC while studying and build skills. Encounter problems and talk to your teachers and fellow students about them. Don't forget to have fun, and if possible, find some time to travel between cities.