NETHERLANDS: FONTYS ACADEMY FOR THE CREATIVE ECONOMY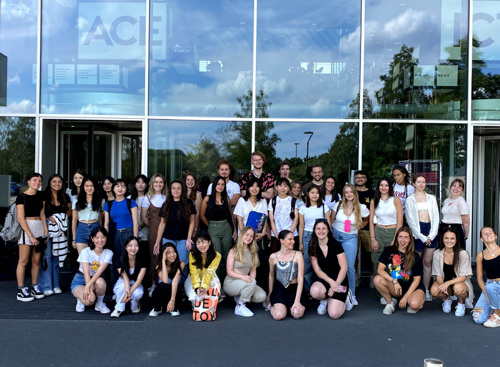 JMC Academy offers the opportunity for students to spend one trimester abroad at Fontys University Academy for the Creative Economy (ACE) in Tilburg, Netherlands. As part of the exchange, JMC Academy receives Fontys University ACE students in February each year.
The JMC exchange students study alongside others from around the world as they undertake subjects offered by the Fontys ACE. Students receive subject credits that are the equivalent of one full trimester of study. All subjects are delivered in English at the Tilburg campus.
Full Trimester Abroad: From February to July 2024, you can immerse yourself in an international learning environment at Fontys ACE. This opportunity is open to Entertainment Management, Animation, Game Design, Design (Visual Communication) and Film and TV students who have completed at least two trimesters of study at JMC. Places are limited to three students per exchange.
Want to know more? Download our Information sheet.
Applications closed 20 October. Successful applicants will be contacted by the International Services Team.
JMC Academy Bachelor degree students may apply to spend one semester at Tai Artes in Madrid, Spain. As part of the exchange, JMC Academy may also receive Tai Artes students at any of our campuses.
Students will be enrolled in subjects relevant to their JMC degree and receive up to one trimester's worth of subject credits. The best study pathway for each student will be decided on a case by case basis. This exchange is available to students enrolled in our Acting, Music Production, Film & TV or Audio Engineering degrees who have successfully completed at least two trimesters of study.
The courses are delivered in Spanish so a language assessment may be undertaken as part of the selection process. Students who have only basic Spanish proficiency might consider enrolling in full-time Spanish language studies in Spain prior to commencing an exchange at TAI Artes in a subsequent semester.
Applications for the September 2023 Exchange program have now closed.