FLIGHT MODE (RE)INITIATED. We're lifting off again with St. Jerome's Laneway Festival for 2024!
After touching down earlier this year from our journey through sonic space, we watched the Laneway UFO's (Unidentified Festival Organisers) retreat to the outer corners of the Milky Way and knew that it wouldn't be goodbye. Thankfully, the stars have aligned and JMC is over the moon to be partnering up with Laneway again for 2024.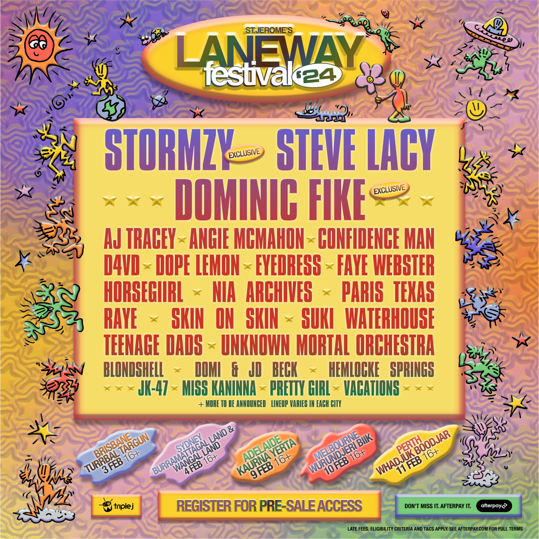 As the stellar nursery for more than a few stars ourselves, we feel it's only natural to be the key education partner for a festival that has allowed us to create so many ~out of this world~ experiences for our students. Earlier this year at Laneway 2023, JMC students were given the opportunity to work across various roles within the festival and gain the invaluable industry experience required to propel them to the next dimension of their creative careers. What's more, JMC launched one student act straight onto the Laneway LINEUP! JMC alumni Ruby Cannon took to the stage at Laneway Festival in Sydney with an entire band of JMC students and alumni to play alongside artists including Haim, Phoebe Bridgers, Fred Again., The Jungle Giants and more… Talk about shooting for the stars!
Check out what some of our students had to say about Laneway '23 and prepare yourselves for what's to come, because you know that 2024 is going to be even bigger and better. 
With a lineup including acts like Stormzy, Steve Lacy, Dominic Fike, AJ Tracey, Angie McMahon, Confidence Man and more, our sights are set on the stars (literally and figuratively). We're so excited to chart our way to Laneway again and bring our students along for the ride! Keep your eyes peeled and your radars turned on for more news over the upcoming weeks 👀🛸🚀🪐
Keep up to date with all things JMC!