Life throws you second chances and it's what you do with these second chances that count! In the music industry, it's these opportunities that can define your career!
We take a look at renowned artists who put down the mic to become professional songwriters, then to their success, propelled into stardom! Each inspiring journey reminds our students that you can also achieve your dreams, by adjusting your path to your ultimate goal. 

It's not what knocks you down that defines you, rather, it's how you get back up that will be your legacy. Be ready for when your opportunity comes. Let's introduce some international artists which may give you some inspiration to keep in mind on your journey.
Bruno Mars
Singer-songwriter Peter Gene Hernandez aka Bruno Mars first found success in writing songs for popular artists. He grew up in a very musically talented family in Honolulu, Hawaii. At the completion of high school (2003), Mars then moved to Los Angeles to pursue his dreams to be a recording artist.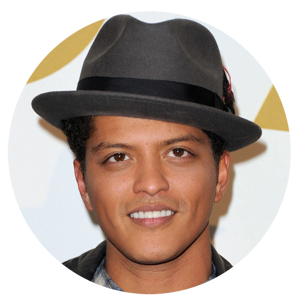 It was here that Bruno Mars initially struggled to make a breakthrough in the industry even after landing a deal with Motown Records which went sour even before a year was up (2004). He decided to push his artist dreams aside after meeting a friend and Smeezingtons partner Phillip Lawrence who helped him compose songs. It didn't take long for Bruno Mars to find success in writing and producing songs for artists like Flo Rida's 'Right 'Round', Travie McCoy's 'Billionaire' and FIFA 2010 World Cup Official Song 'Waving Flags' by K'Naan and Cee Lo Greens' 'Forget you'. 

Mars' big break came when he wrote B.o.B's #1 hit 'Nothing on you' and also featured on the track. This was an enormous hit then Mars went on to release his first solo single, "Just the Way You Are," from his debut studio album, Doo-Wops & Hooligans, released in October 2010.

Bruno Mars is admired for his songwriting and vocal technique, records that come from the soul, and delivers incredible performances with big melodies.
Taylor Swift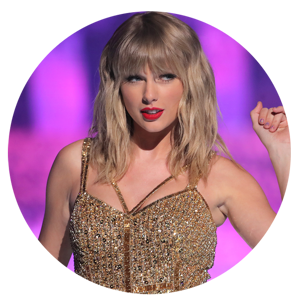 Taylor Swift began her incredible career from a very young age! Taylor Swift knew from an early stage that she was destined to be a performer but everyone in her hometown wanted to become famous. She realised she needed to figure out another way to be different. Her love for poetry leads the way for her path and at the age of 14, after performing original songs at an RCA Records showcase, Swift became the youngest songwriter to have ever been signed by Sony/ATV Tree Publishing house. 

Taylor was recognised at this young age as an artist who had a special knack for expressing, articulating and visualising lyrics in her songs. She performed the songs she had written and was spotted by Big Machine Label Record Executive which then followed the release of her first single "Tim McGraw" in 2006.

Taylor Swift then went on to write all 14 songs from her 2010 album Speak Now, before the age of 19!

Taylor Swift is the real deal and total package. She makes her fans want to dance like nobody is watching and comes out with undeniable energy and delivers flawless artistry at every performance.
Want to study Songwriting at JMC?
Neyo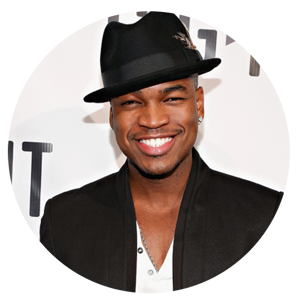 Shaffer Chimere Smith better known by his stage name Neyo signed to Columbia records in 2000 but was dropped before his first album was released. American singer Marques Houston heard Neyo's unreleased song "That Girl and re-recorded it. This instantly made him a recognised songwriter in the RnB industry. He then continued to write songs for the next 2 years and reached unprecedented fame for his songwriting craft when he wrote (2004) Mario hit 'Let me love you'. 

Ne-Yo also contributed songs to RnB singers Mary J. Blige, B2K, Faith Evans and Musiq, and co-wrote number 1 hits for Beyonce's 'Irreplaceable', Rihanna's 'Take a bow', Jennifer Hudsons 'Spotlight' and many more of today's top pop artists.

Neyo got his big break when he had an informal meeting with Jay-Z (then CEO of Def Jam records) with the help of (Tina Davis – Def Jam) signed a new deal after he spontaneously was asked to perform one of his songs. He then went on to release his debut album, 'In my own words' including the smash hit 'So Sick' and has been travelling up the charts ever since!

Neyo is known for making his mark on the RnB industry as one of the most successful songwriters and artists of the late 2000s, his fashion sense and signature headwear also deliver a unique style.
Lady Gaga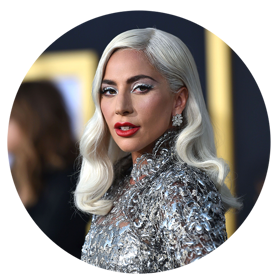 Stefani Joanne Angelina Germanotta professionally known as Lady Gaga is a killer pop artist. Lady Gaga showed immense musical talent very early on as a child and achieved early admission to New York Unversity's Tisch School of the Arts. She later withdrew from the course and went on to be signed by Def Jam Records for a brief time (2005). After getting dropped by this record label, Gaga sought creative inspiration from performing in clubs all over New York City. 

In 2007, Interscope Records signed Gaga as a songwriter for other artists. This included artists Britney Spears 'Quicksand', Pussycat Dolls 'Elevator', New Kids on the Block 'Full Service', Wale 'Chillin'. During this time, Gaga still pursued her performing career when she was discovered by singer Akon at her self-titled burlesque show. In 2008 she released her first album, 'The Fame' and later, reached international stardom with her debut single 'Just Dance'. 

Lady Gaga is known for her wild costumes, outstanding performances and being the centre of attention. She has postponed her music career to pursue acting and other projects, recently winning a Golden Globe for her appearance in American Horror Story and staring in a retelling of "A Star is Born" alongside Bradley Cooper. 
So go "ALL-IN"
As an artist, it is important that you have a clear vision and true understanding of who you are and what kind of artist you want to be. Be inspired by your life experiences and relate them to as many people as you can.

Don't ever give up! Hone your skills, collaborate as much as you can, put together a strong demo, and get your music out there and be ready to meet new people who can help you with your future. 

Don't confuse a single defeat for a concluding defeat. Best of luck to our Performers and Songwriters!