Ever since we announced that JMC would be back at Laneway Festival in 2024, we've been working hard behind the scenes to make sure it's our students that benefit the most from this dream partnership 🤝✨
We're thrilled to announce that our Laneway Festival Placement Program is back, offering a remarkable chance for all current JMC students across our Melbourne, Sydney, and Brisbane campuses to gain hands-on industry experience by joining the Laneway Festival team!
Whether you're passionate about streaming, artist management, marketing and design or sfx, we have a wide range of roles to cater to your creative interests. It's an extraordinary opportunity to immerse yourself in the captivating world of festival production. There will be no mundane coffee runs here; only an exciting dive into the heart of festival creation!
There are so many opportunities on offer for JMC students, including:
Artist Liaison Assistant: Liaising with artists to manage their movements within the festival.
Brand Activation Assistant: Supporting Laneway event activations.
Live Sound Audio Assistant: Assisting the live sound team at Laneway Festival. 
Audio Stage Hand: Assisting the Audio stage team at Laneway Festival. 
Laneway Camera Operations Assistant: Assisting the camera operations team in the capture of Laneway performances.
Digital Content Assistant: Assisting in creating and performing in on-the-ground social media sponsorship content at Laneway Festival.
Stage Visual Assistant: Working in a team to design and animate the stage backdrop for JMC's Music Artist competition winner performing at the Sydney Festival.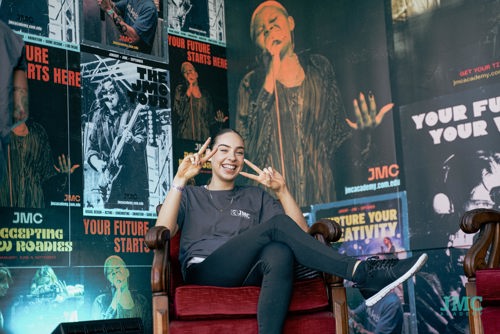 So, how can you be a part of this once in a lifetime experience? The application process is just like a typical job application. Fill in your details, attach a cover letter and your CV, and tell us which departments of Laneway Festival pique your interest the most! 
Visit the application form HERE to discover how your talents can contribute to Laneway '24. Applications close on November 28th... Don't miss out!
See what roles are available for you at Laneway Festival '24!