Design Graduate Sara Lindberg Talks About Her Exciting Transition From Art Director In Sweden To Digital Design Student At JMC Academy, And What Has Happened Since.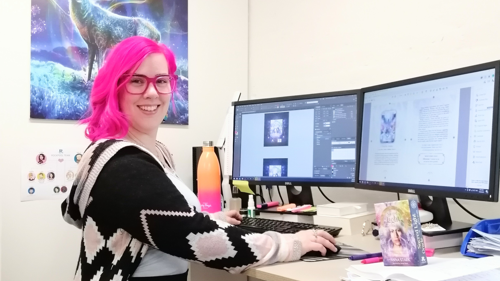 Sara Lindberg already had a degree in Graphic Design & Media Communication from a university in Sweden and five years' experience as an Art Director at a leading fashion and lifestyle magazine, but that didn't stop her packing up and travelling to the other end of the world to study a Diploma of Design (Visual Communication) at JMC Academy's Sydney campus.
Looking back, Sara said that she realised that she needed to take a career break to upgrade her design skills, focusing more on screen than print, in Australia.
We managed to have a chat with Sara to learn about her exciting transition into learning about digital design and what she is doing now as a design professional.
Here is what she had to say:
Why did you decide to pursue additional study despite having years of experience as a designer?
When I was working as an art director for a publishing company in Sweden, more magazines were becoming solely digital. So, I thought that's where the world is progressing. That was why I decided to learn about digital design.
If I didn't upgrade my skills, I wouldn't be able to develop my career. And I wanted to get a paper qualification to prove that I had the right skills.
So, even though I was passionate about print design, I decided that I needed to study digital design.
What was it like coming to Australia to study at JMC, and returning to study as a mature student?
I came to study in Australia by myself. Settling into Australia was fun and challenging at the beginning. I didn't know anyone when I first got here.
The whole course at JMC was in English, and I was nervous speaking in English in front of everyone. But after a while, I got used to it.
Although I was almost 30 years old when I came to study at JMC, I still managed to hang-out with my classmates. I didn't have any problem with the age gap.
How different is studying design in Sweden compared to studying design at JMC in Australia?
The education system in Sweden is very different compared to studying in Australia. When I studied design in Sweden, it was very academic-based. In Sweden, I had exams and written essays to complete and I had to read a huge amount about what I studied.
In Australia, the course is more practical - at least with the course I was doing at JMC.
With the Diploma of Digital Design that I did at JMC, I learned by doing. I didn't have to read a lot of books. Instead, my course was focused on task-based learning, so I had different assignments and hands-on projects at JMC.
What did you like about studying the Design diploma at JMC?
During my time at JMC, I learned more about the creative process – about reviewing and going back to improve things. Whenever I got a course assignment, I would focus on constantly improving the result.
In my Graphic Design degree course in Sweden, I would just do my assignments and move on without reflecting on any potential improvements.
The course at JMC made me think in a more creative way. It was a good and fun time studying at JMC as I gained a lot of practical experience, which I liked.
I liked learning about animation, as it was something I have not done before. I also got to study 3D modelling, website building, HTML, Dreamweaver, After Effects, and branding.
What are some valuable skills that you have gained through your studies at JMC that help you in your career now?
Through my course at JMC, I learned about the creative process, tools and different techniques and ways to come up with concepts and unique ideas.
When creating a concept design for something, I was taught to draw different ideas in mind maps. And from that, I would develop a brand or pattern, rather than just trying to do it all in my head.
And on top of all this, I got to practice my English skills while studying in Australia.
All the things that I learned from JMC help me in my career now.
Did you manage to get an internship while studying at JMC?
Yes, while I was studying at JMC, I managed to get an internship at Nickelodeon Australia as a Digital Design Intern. Although the internship was junior work, it was a good experience for me as it was my first time working in an Australian company. My internship helped me to adapt to the professional work setting in Australia.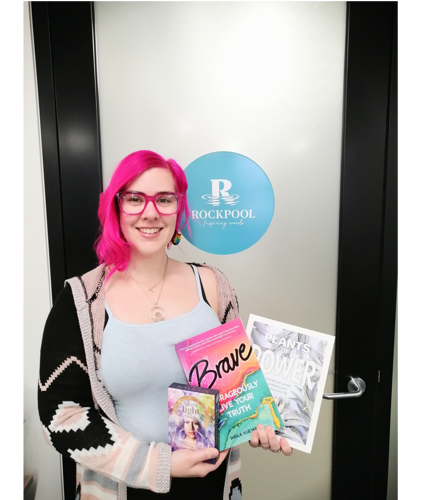 How has your transition back into the workforce been after studying at JMC?
After studying at JMC, I decided to find work in Australia. I did a lot of freelance design work at first. Then I worked for a book publishing company, New Holland Publishers, for about half a year before moving back to doing freelance work. I was freelancing until I found my current job at Rockpool Publishing, where I now work as a Creative Director.
What do you like about being a Creative Director?
As a Creative Director, I enjoy creating beautiful design pieces that people can get excited about. I always try to come up with unique designs that people have not seen before.
Whenever I see the digital version of my designs on the screen, I become very excited about wanting to see them in print!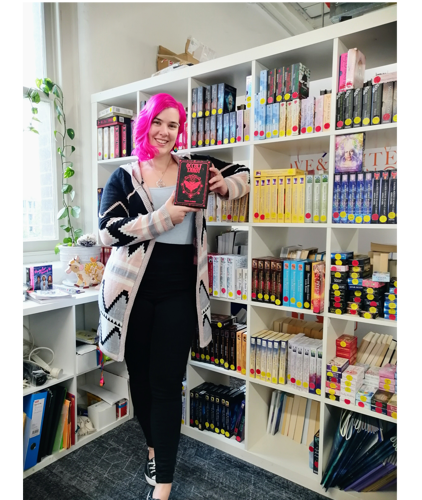 Do you still do freelance design work? Tell me a little more about that.
Yes, I run my freelance design business called 'Firefly Creative Studio'. Although I work full-time at Rockpool Publishing, I still take on a few small projects as a freelancer.
I've worked on so many projects as a freelance designer. I designed websites, digital and print banners, social media posts, business cards, letterheads, catalogues, posters and marketing materials.
I did a lot of property development marketing work - like window displays, floor plans, brochures and advertisements that are displayed on buses.
I also had the opportunity to do animation work.
How do you get your design inspirations?
Whenever I get a design brief, I'll read the manuscript and find out what the product is about.
When doing book designs, some briefs come with images and some don't.
I'll do some research online, read some books and come up with an idea in my head. Then, I'll create mind maps. I'll write words that are related to my idea so that I can see the purpose of the book design.
After that, I'll sketch out my ideas. If I can't find the fonts that I like, I'll handwrite the text myself.
What would your advice be for aspiring designers?
To be a designer, you need to have a passion for design and be able to rise to the challenge of coming up with new ideas.
You must have a vision for what your design should look like. This comes with practice.
You need to be open to receiving feedback and not taking things personally. And you must be very computer proficient.
While you get feedback from other people, you should also know what you want and like. You need to have your own style.
Do not be afraid to try new things, even if it's ugly.
Want to future-proof your career in design by studying digital design, just like Sara?
Find out more about the JMC Academy Diploma or Bachelor of Design (Visual Communication) program.