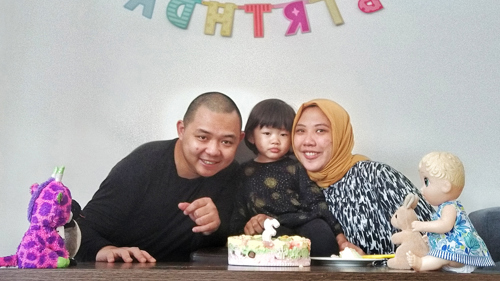 It was not long ago that JMC Master of Creative Industries student, Aditya Nugraha, was living a comfortable life with his young family in their home country of Indonesia while working as a Drone Operator for his father's construction company.
But despite his secure job and promising lifestyle, he felt something was missing...
He wasn't pursuing his true passion - music!
While he was out in the fields operating drones, he was always thinking about music.
"Deep down I love music and wanted to pursue a career in music. But I just didn't know how to make it in the industry. It felt like I was alone...just me against the world!" he told us.
Then, after some serious thinking, he decided to set off to Australia, with his wife and daughter in pursuit of his dreams in music.
He is currently studying a Master of Creative Industries at JMC Academy's Melbourne campus.
Here is what he has to say:
What made you decide to study the Master of Creative Industries at JMC?
I love making music as well as playing the guitar and clarinet. I wanted to study something related to my music skills. So, I decided to study the Master of Creative Industries.
Why did you choose to pursue your studies in Australia and why Melbourne?
I chose to study in Australia because I have never studied abroad before and Australia is also not too far from Indonesia.
I decided to study in Melbourne because I was attracted to its unique weather. Besides this, I'm attracted to the environment and architecture in Melbourne, which is new to me, and the possibility of gaining work experience here.
What was it like first settling into living in Australia?
When we first came to Melbourne, it was a surprise for us as we had not been overseas before. I like Melbourne very much. The environment and people here are different from my home country. There's an extraordinary transportation and healthcare system as well as music culture here.
How different is the music culture in Melbourne compared to Indonesia and how do you think it would benefit your career development as a musician?
There is a strong presence of multi-genre music in Melbourne. There is emphasis on jazz, blues as well as experimental and traditional music. We get exposed to music from different countries and cultures unlike my home country. With this environment, I get to improve my skills and technical knowledge in music even further.
How are you and your family adapting to life in Melbourne?
My wife made a lot of new friends in Melbourne while attending a free English Language class. She's always organising cooking activities with her friends.
My daughter just started kindergarten and she's making a lot of friends there too. She also makes friends when she goes to the parks with us. She is especially happy when we take her to eat cakes and ice-cream at St. Kilda and in the city.
I meet new people through a reading and writing club in Melbourne. I also attend music seminars to get to know more people.
My family goes to the mosque behind our apartment and we also make new friends there.
Was it easy to find accommodation in Melbourne?
We managed to find our accommodation from Gumtree.com.au. We are currently renting a one-bedroom apartment located near the tram and bus stops. And just behind the apartment is Flagstaff Gardens, a popular park in Melbourne.
What are your family's favourite activities in Australia so far? Have you visited any interesting places?
We enjoy going to the Queen Victoria Market and Footscray Market to get our groceries. My wife loves to cook and she finds most of her ingredients there.
We also like going to St. Kilda. We swam at the beach and tried the calamari at the food truck there and it was really delicious. My daughter loves the cakes and ice-cream there.
And we managed to get a good discount to ride the Melbourne Star Observation Wheel, a giant Ferris wheel in Docklands, Melbourne.
The furthest we went in Victoria state was to Ballarat, where we visited the Sovereign Hill.
Prior to the Covid pandemic in early 2020, we went with my parents to Sydney where we saw the Sydney Opera House.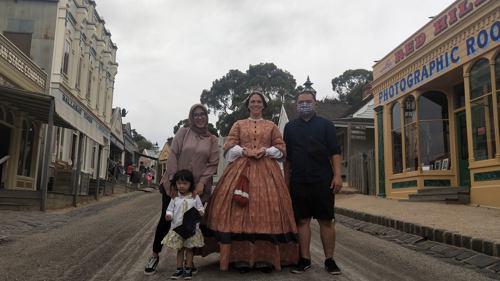 Aditya and his family at Sovereign Hill, Ballarat, Victoria.
What's your Masters project about?
My project is to create a backing track music album that children and adults can use to learn music. It will be in video format and will include music scales and modes as well as course progression information. I plan to make one of my backing tracks live on my YouTube channel. And I would like to sell my backing track album on Spotify, YouTube Music and Apple Music in the future.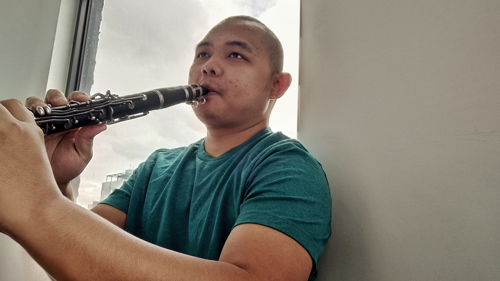 What do you like about the Master's course so far?
The most exciting thing about studying this course at JMC is the campus, studios and the people here.
I like the new Melbourne campus very much as it's very modern and comfortable. I especially like the auditorium.
The lecturers at JMC always present their study materials very well. The most interesting classes for me are related to pre-production.
I also gained extra skills from friends whom I met through this course.
What are your hopes for the future?
My ultimate dream is to become a jazz musician performing in Melbourne. I also plan to grow my YouTube channel following and start selling my albums. In addition to that, I would want to teach music.
Would you say Australia is a great place for international students to go to pursue their studies if they would to bring their families with them?
Yes, it's really good for international students to bring their families to Australia while studying, especially if they want to gain a new experience like us.
Want to take your creative career to the next level? For more information about the JMC Master of Creative Industries, click here.