JMC Contemporary Music Performance graduate, Milan Porey, aka Jazzy Sadhu, from India talks about his journey of breaking into the music industry, locally and internationally, after graduation.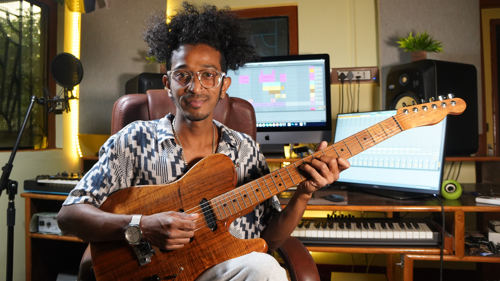 Life for JMC Academy's Contemporary Music Performance graduate, Milan Porey, aka Jazzy Sadhu, is looking pretty good. After all, he has been successfully getting his music distributed globally; being contracted to compose, arrange, produce and perform on film soundtracks and music releases; and growing his following since returning to his home country, India.
The Kolkata-based guitarist, composer and producer has been living the life that he has always wanted as an independent musician.
And earlier this year he was featured in Rolling Stone (India) magazine, showcasing his second single, a Bengali contemporary pop track titled 'Chithi'.
We managed to interview him to ask about his experience breaking into the music industry, both locally and internationally, and what contributed most to his achievement.
Reflecting on his journey as a musician, this is what Milan had to say:
How long have you been playing music and what do you love about it?
I've been playing the guitar since I was 13-years-old, so that makes me a guitarist for over 14 years!
I've never been interested in mainstream music though - I prefer to make my own music.
When I learned the guitar, I began exploring sounds and chords, words and sections, which was exciting. However, I didn't have much music theory knowledge back then.
I always loved composing music and wanted to grow up to be a song composer.
What type of songs do you like to produce and perform?
I like producing and performing rhythm & blues (R&B), neo soul and contemporary pop songs in the Bengali language.
In India, Western music is becoming more popular than old classical Indian music. That's why I write Bengali songs, to give this industry a different taste. I plan to continue producing more Bengali songs in the future.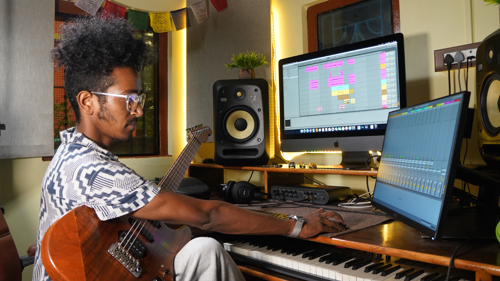 Tell me what did it felt like when you first started studying music at JMC in Sydney, Australia?
Studying music in Australia was like a dream come true to me. I still remember the day I first arrived in Sydney. It was a cold winter evening, but I was only wearing a t-shirt!
Australia was a new country to me, so I was excited and nervous at the same time.
My brother also studied Contemporary Music Performance at JMC and he took me around to explore the city that night.
The next day, when I went to JMC, I was welcomed by the people in the faculties. My fellow students and seniors were very helpful towards me. After that, I walked around the streets, cafes and pubs near the JMC campus, feeling all excited and nervous.
What are the key things that you got from JMC that are valuable for progressing your music career now?
JMC brought me back to learning about music theory. When I was younger, I didn't really know about music theory. Because of that, I was afraid to study music at JMC at first. But when I started my course at JMC, I started learning music theory from scratch.
When you understand music theory better, writing a song becomes clearer. You'll be able to write songs better instead of getting confused about what direction your song should take, especially when composing, as you'll be able to structure your chords properly.
Through my course, I got to learn about the technical aspects of music production and was taught about producing music with limited equipment and gear, which is great, especially if you want to start as a musician with limited resources.
I got to use JMC's modern facilities, which were better than the facilities provided by music schools in India. I even got to practice making music and producing songs using the facilities outside my class times.
Did you get involved in music outside of JMC as well?
When I was studying at JMC, my main priority every day when I got home was to put aside 5 to10 minutes to think about the music I wanted to create. I would then produce and showcase my original music on Facebook and Instagram. They would be short music pieces that I could fit into the limited time that I had outside of studying.
I also did some independent music gigs and was part of a four-member band at JMC.
Did you manage to network and collaborate with other students outside your course at JMC?
Yes, of course. I made friends with gaming, film & television, and audio engineering students too. It's really easy making friends at JMC!
When I was in the first trimester, I collaborated with the audio engineering students for a studio performance at JMC Sydney campus.
What inspires your songwriting?
I get inspiration mainly from people's lives, journeys and stories. I also look at contemporary artists and research the types of music that they listen to. I get inspiration from music from the 80s and 90s too.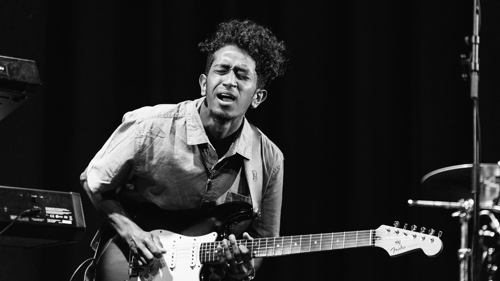 Tell us about the music scene in India. What is it like?
In India, there are so many music genres. What's happening now is that a lot of young people are into the Western genres rather than Indian classical music.
There are so many fields you can move into. In the film industry, you can compose music for Bollywood, or you can be involved in the independent music scene, just like me.
There are also shows and music gigs that you can be involved in.
What are your hopes for the future?
In the future, I want to produce music for bigger clients and become an even more established name in the industry.
India has been hit hard by Covid and playing live has been dramatically restricted. Once restrictions ease, I want to really hit the stage again. Wherever my music takes me, I'll go there.
Any advice to others who are wanting to make music their careers?
As musicians, it's important not to feel too pressured to constantly push out new content. Sometimes, it's okay to relax and take a deep breath and not rush everything. You can't make music when you are tense or anxious.
You must be relaxed, be passionate and have a focus. You need a vision of what you want to do. Small things will turn out big with patience, determination, passion and a clear mind.
Have fun with music and bring it to other people!
Want to see Milan perform one of his latest singles? Watch the video below:
Follow Milan on his social media channels here:
YouTube: https://www.youtube.com/channel/UCAtRM_XFWfO994UiBUqE0uQ
Instagram: https://www.instagram.com/milan_porey/
Facebook: https://www.facebook.com/Jazzy-Sadhu-2016758118539144
Interested in pursuing a career in Contemporary Music, just like Milan?
Find out more about the JMC Academy Contemporary Music Performance program.