As the COVID-19 situation continues to rapidly evolve and with strong consideration to the wellbeing, concerns and safety of our students, staff and their families, JMC Academy has decided to suspend face to face delivery of its courses as of this evening. 
Although there have not been any confirmed COVID-19 cases at JMC, we have agreed to take a pause from delivery until March 30, 2020, in order to allow us to effectively transition to an online environment that will best support our students' learning. While we anticipate that most units will be able to be delivered online, we appreciate that this may not be possible for all. In such instances, alternative arrangements are being considered. A working group has been put together to fast-track the process and we will have more detailed information in the coming days.
These changes are unfortunately inevitable and will understandably cause some level of inconvenience, not only academically but also personally. I am sure we all appreciate and understand, however, that we are all currently in uncharted territory. I assure you that JMC will endeavour to provide you with the best possible experience under these challenging circumstances with a continued commitment to providing support, both academically and otherwise.
It is important to note that although we will not be delivering classes on campus, JMC campuses will remain open with access for students to facilities, labs, libraries and resources. During this time, we will continue to maintain strong hygiene practices, preventative cleans and social distancing. We strongly request, of course, that no student attend should they be feeling unwell, or have respiratory symptoms (runny nose, cough, sneezing, sore throat) or other related symptoms (headache, fever, nausea).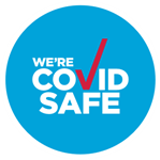 In line with recent Government protocols on gatherings of over 100 people, I advise that JMC has postponed upcoming Graduations and Martini Awards. As we understand the importance of celebrating such important milestones in the lives of students with their families and friends, we will look to arrange times at a future date as soon as the risks associated with the COVID-19 outbreak have subsided.
During this unprecedented time, I would also like to request that we all try to focus on reliable sources of information, focus on facts and where possible avoid the media frenzy, which I know is not without difficulty. As we transition to an online environment for the immediate future, it is also now more important than ever, that we maintain our sense of community spirit and seek to support each other in positive, creative ways as we strive to get through this together.
Finally, while we will be providing updates in a variety of forms, the primary source will be through your JMC e-mail and PLATO, so please ensure that you are checking this regularly. I personally thank you for your patience, understanding and support and look forward to welcoming you back to campus in the near future.
Need to get in touch with your campus?