Do you have what it takes to remix an unreleased rock single?! 
The 2022 JMC Mixtapes Competition is now open!
We invite high school students to submit their remix and go into the running to win awesome prizes to the value of $2,500 for themselves and their school!
JMC Academy is super proud to announce our first ever remix competition. The aim of this competition is to encourage high school students who have a keen interest in audio and music production to further develop their skills and to push the boundaries on creativity. Students have the opportunity to remix, reinterpret, and rework the original upcoming single, "
Hard Truth
" by JMC Academy alumni band,
Patient Lounge
.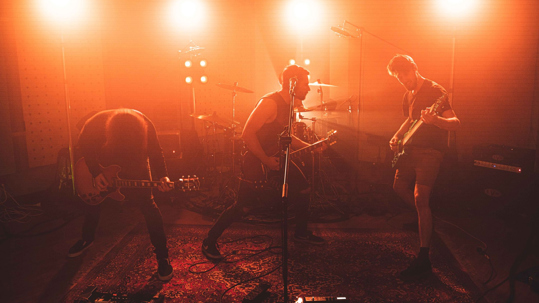 Patient Lounge performing at JMC Academy
Win 1 of 3 prize packages consisting of:
$500 Manny's & Store DJ Gift Voucher 

 

12-month Digital subscription to Sound on Sound

 

JMC Workshop for your school (12 students)

 
Follow these simple four steps:
1. Download the folder containing the audio stems and track below.  
2. Create your remix!  
3. Export it as a stereo .wav file and upload it via the submission form. Make sure you clearly label your name using the correct format (see tech.)
4. Complete the submission form.
*Note - BPM of the song changes multiple times during the recording. 99bpm (at the start), 100bpm (from bar 34 to 42), 104bpm (from bar 42 to 62), 102bpm (from bar 62 to 66), 100bpm (from bar 66 onwards).
Download Stems
Download Track
How long do I have?
Submissions for the 2022 Mixtapes Remix Competition closes on Monday 31 October 2022 11:59pm AEST
Who can submit to the competition?
All entrants must be high school students and be studying between year 9 to year 12. Homeschooled children between the ages 14 – 18 are eligible to enter.  
The entrant(s) must be the creators of the work.
Entrants must be residing in Queensland, New South Wales, ACT or Victoria.
If an entry is submitted by a group, and the group wins, the prizes must be shared by all group members.  
I'm ready!
Entries close Monday 31 October 2022 11:59pm AEST
Technical specifications of entries
All uploads must use the following specifications for their audio file: 

File Type: WAV 

Channels: Stereo 

Maximum Length: 6 minutes 

Clearly label your name, the state you are entering from and your year level. Eg: John Smith_Melbourne_Year 9. Make sure you follow this step correctly or we won't be able to identify you when reviewing the files.